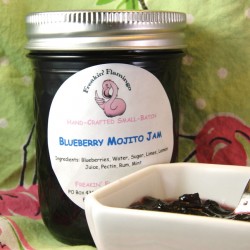 Part of the "Cabana Collection", one of the Flamingo's signature flavors, Blueberry Mojito is back in the rotation! Big, fat, Florida blueberries, locally grown mint, and real rum (also made in Florida!) - one bite and you'll think you're on a Caribbean vacation! Of course, the alcohol is cooked off, leaving the flavor behind and making it perfectly safe for children and other living things.
Get away today, even if it's just for 5 minutes. 🙂
8 oz jars
People who bought this item also bought
Updating...