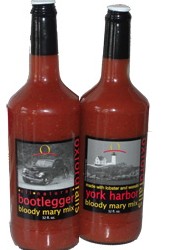 Oxford Falls Bloody Mary Mixes are made with tomato juice, not paste or powder for a fresh flavor profile. You can see and taste the natural spicy goodness in every bottle!  Freakin' Flamingo is proud to now carry two of their most popular flavors:
-The Bootlegger version is all natural, vegan, gluten free with bits of carrots, celery and bell pepper - a classic Bloody Mary taste enhanced with OF's own Gluten-Free Vegan Worcestershire Sauce (also available here!).
-The York Harbor is New England themed with the rich buttery taste of lobster enhanced by a hint of wasabi.
32 oz glass bottles
Please choose Bootlegger or York Harbor
Updating...